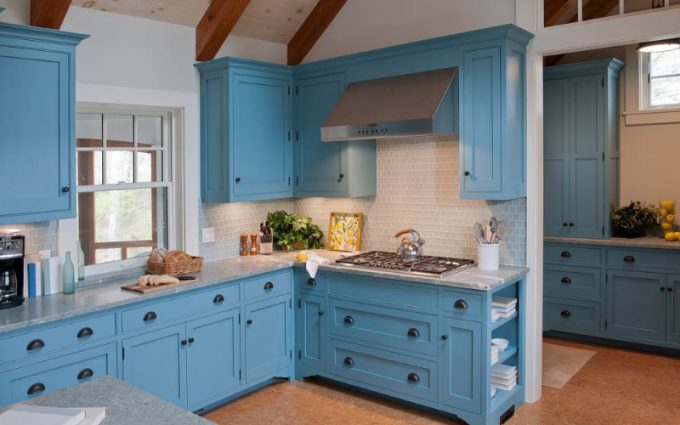 The latest interior design trend is colored kitchen cabinets
The trend is toward painted wood cabinets, but other fabrications such as laminates and solid surfaces are used in colors as well depending on the style of interior design for the project.  The sky is the limit on color selection – there is no one, singular color that is the most popular.   Need help selecting a color? Use your home's location to cultivate a color palette for the kitchen and kitchen cabinets, as I did in this waterfront home in Martha's Vineyard.  The sea and the sky were the inspiration for these beautiful blue kitchen cabinets.
Color can be used in both contemporary and traditional settings.  It can be used to create a focal point or to give a room modern appeal.  Mixing color with natural woods also works exceptionally well for kitchen interior design, as I did with this kitchen island.  The blue wood island created a focal point in an understated manner, while still preserving the aesthetic of the traditional design.
Don't forget – white is a color too!  You can also use colored kitchen cabinets to lighten up a dark room, in this case white colored cabinets kept this kitchen feeling open, light and airy.
What do you think about this trend in kitchen cabinetry?  What color would you like to paint your kitchen cabinets?