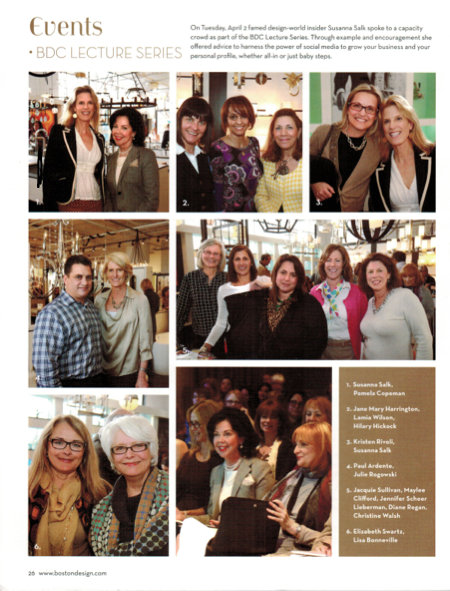 Cybele Issue 2 – 2013 Susanna Salk Event feature
Elizabeth Swartz was recently spotted by the Boston Design Center's Cybele magazine at the BDC Lecture by Susanna Salk.  Susanna Salk offers tips and information on design style for the home as a regular on NBC's The Today Show.  Susanna also helped launch Elle Decor Magazine and is a Contributing Editor to 1stdibs.com and ivillage.com.  For this April 2, 2013 BDC Lecture Series presentation, "Designing Outside the Box: Using Social Media to Share Your Design Aesthetic with the World", Susanna shared her knowledge on creating a voice in the interior design world through social media.
Cybele Magazine is the official magazine of the Boston Design Center.  Cybele is a for-the-trade only publication published quarterly and is the only design trade magazine in New England covering the local design industry, special events, new products and design trends.  It is also available to discriminating design enthusiasts.  Click here to find out how to subscribe. 
Elizabeth Swartz was among some of the Susanna Salk lecture attendees to be featured on the Events Page of Cybele Issue 2 – 2013.