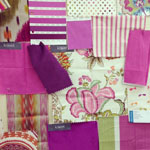 Pantone Color of the Year 2014: Radiant Orchid
In the ever-changing worlds of fashion and interior design the one thing that remains a constant is the fact that Pantone is the global authority on color and predicting color trends.  For 2014 Pantone has chosen Radiant Orchid (Pantone 18-3224) as their "Color of the Year".  This magical and enigmatic color is a far cry from 2013's color of the year, Emerald (Pantone  17-5641) but no less captivating.
"While the 2013 color of the year, served as a symbol of growth, renewal and prosperity, Radiant Orchid reaches across the color wheel to intrigue the eye and spark imagination," said Leatrice Eiseman, executive director of the Pantone Color Institute.  "An invitation to innovation, Radiant Orchid encourages expanded creativity and originality, which is increasingly valued in today's society."
The 2014 color of the year, Radiant Orchid, does coordinate well with last year's color of the year, Emerald, but it is such a vast departure that it is likely to inspire people to get out and shop or redecorate to stay up-to-date.  The Wall Street Journal takes a fun look at the last decade of "It Colors" with their graphic that displays the Pantone Color of the Year colors for the past 10 years.  Pantone often chooses hot, eye-catching colors for their color of the year selection, but varies its color choices from year to year to keep the colors feeling fresh.
Radiant Orchid definitely skews feminine, but is still expected to be embraced by men and women alike in everything from fashion to home accessories and interior design.  Check out Pantone's Pinterest board for this bold color to see it in many different shades and uses.  Experts foresee this color selling well to both men and women in their 20's and 30's , as this group tends to be open to new styles.  This color will also have a strong appeal to anyone interested in fashion and interior decoration.
"An enchanting harmony of fuchsia, purple and pink undertones, Radiant Orchid inspires confidence and emanates great joy, love and health,  It is a captivating purple, one that draws you in with its beguiling charm." says Leatrice Eiseman.
Radiant Orchid is a modern and surprisingly versatile shade.  In beauty and fashion it enlivens the skin, making all who wear it feel more healthy and energetic.  Blending both cool and warm undertones, it is flattering to many.  In interior design this multifaceted hue can be incorporated in paint, accent pieces or accessories.  Radiant Orchid compliments olive and deeper hunter greens , and offers a gorgeous combination when paired with turquoise, teal and even light yellows.  This vibrant color is sure to liven up neutrals like grey, beige and taupe.  Pantone notes that Radiant Orchid is uplifting and bold without being overpowering, and reenergizes almost any color palette, providing a unifying element for diverse spaces.
If you love this color that is just "off the beaten path" and want to use it to do something creative in your home, but don't know where to start…Give me a call!