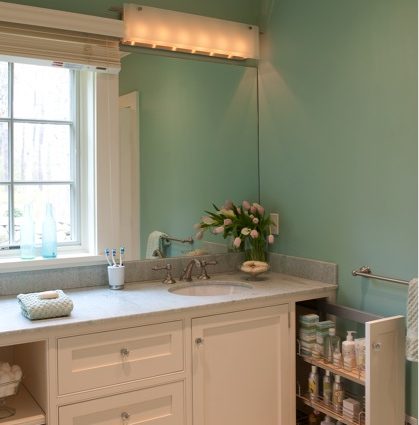 Make the most of every space
Clever bathroom storage that makes the most of a small room is standard in a professionally designed bathroom.  Here are examples of bathroom storage solutions from some of my recent design projects.
Custom Cabinetry
Use a combination of open and closed storage to provide efficient organization.  Create exactly what you need for storage with a custom shelving unit that will allow the room to remain open and airy, yet still meet all of your storage needs.  Open shelves offer easy access to towels, while pullout drawers conveniently store toiletries, beauty items, cleaning products and everyday essentials.  Include a vanity area, separate from the sink to make everyones morning routines run smoothly.
Hidden Drawers
In addition to open shelves for easy access to towels and pullout drawers to hide smaller items and supplies,  a full-height pullout cabinet in a narrow space that might ordinarily go un-utilized conveniently stores toiletries, beauty items, cleaning products and everyday essentials in an easy to access way.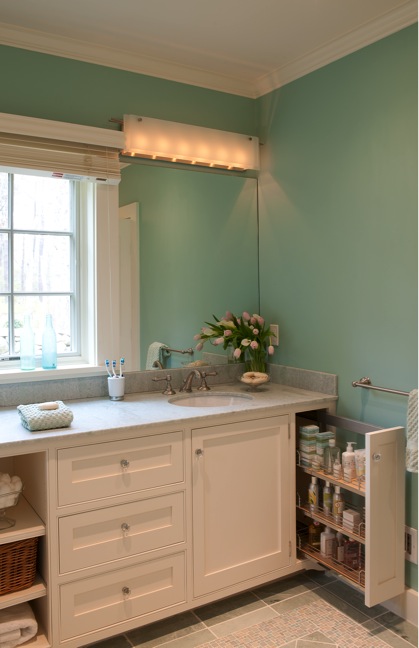 Open Storage Shelves
Make it easy to find the items that need to be handy in a large bathroom by putting them right out in the open.  Utilize open storage shelves to store and display fluffy bath towels.
Custom Cabinetry or Furniture
Why crowd a small space with a vanity cabinet when a small-scale custom furniture piece can be functional?  In this design the combination of the open base and tall legs helps create a lighter, more open feel.  Using a vessel sink means the drawers underneath remain spacious enough to store soaps, guest towels and extra rolls of toilet paper.
Vertical Storage
Make use of all of the space you have available with carefully planned cabinetry or shelving that meet all your storage needs.  Be mindful of the scale of the space to prevent overpowering the room.
For more clever bathroom storage ideas, check out this article by Kimberly Pfaff Tchang on HGTV.com, "18 Savvy Bathroom Vanity Storage Ideas".  Two bathrooms I designed were featured here (photos 10 an 11).
Whether you are remodeling an older bathroom or building new, let me help you to make the most of your space with a thoughtful design.