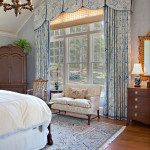 Just in time for Valentine's Day
Our bedrooms are our escape from the day-to-day routine.  Ideally we keep this space clean and free of clutter and projects,   not as a place to store the things you don't want house guests to see or a place to do household chores, like folding laundry or ironing.  It should be a relaxing haven, conveying warmth, comfort, luxury and intimacy to soothe you and comfort you.  Here's some romantic bedrooms I have designed to inspire you.
Cozy and warm in New Hampshire
Soft colors, flowing curtains, floral fabrics and ultra-soft bedding and furniture all add a touch of romance to this bedroom.  This bedroom is a wonderful place to relax with stunning views of the White Mountains of New Hampshire.  It features a cozy fireplace, a comfy chaise, a simple floral valance with linen Roman shades, a custom rug and decorative throw pillows.  The relaxing island scene painting transports the homeowner to her 'happy place' that is far from the busy day-to-day.  For more pictures of this romantic bedroom, see the article from New Hampshire Home Magazine, "An Extraordinary Home for and Extraordinary Site".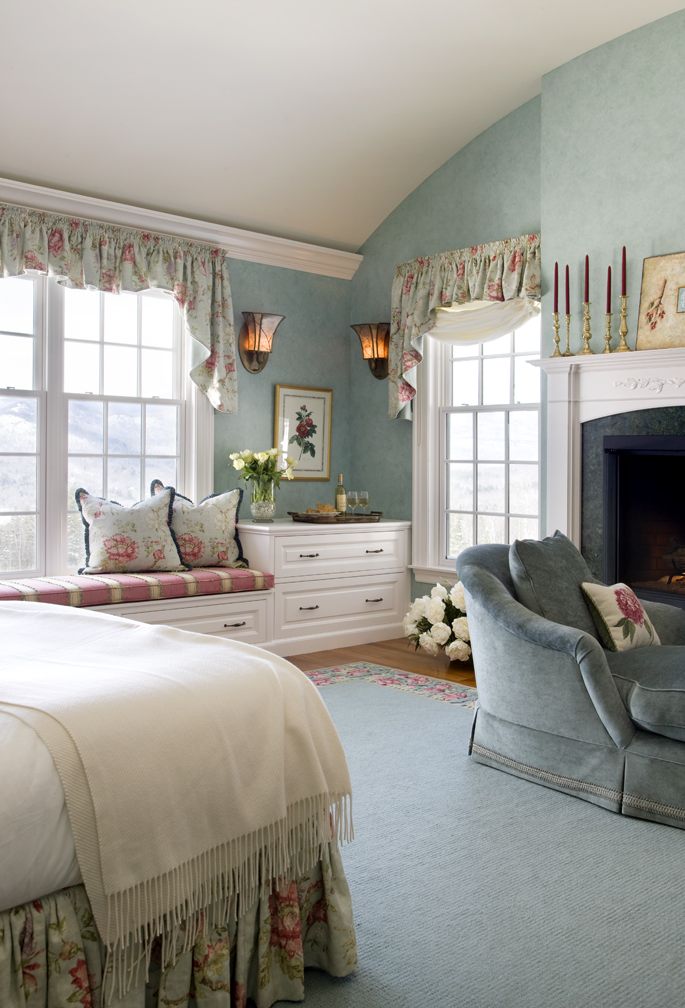 Perfect Symmetry in Boston
A plush upholstered headboard, soft lighting, thoughtfully chosen antiques, just the right throw pillows, luxurious bedding, fresh flowers, perfect symmetry…these are the things that make this bedroom romantic.
Feminine Elegance
This dramatic window framed by flowing patterned curtains and a scalloped box pleated valence set the tone for this romantic bedroom.  The motorized, grass blackout shades provide privacy as well as room darkening when closed.  A decorative antique chandelier, instead of harsh overhead lighting, and vintage accent lamps give this space a romantic radiance.  Luxury bedding and a cherished heirloom rug create the comforting sanctuary this homeowner desired.
Simple and Relaxed
Romantic doesn't necessarily mean florals and frills.  This light and airy bedroom is simple and relaxed.  Comfortable not stuffy.  Open and inviting.  Instead of stark white walls, I used a warmer cream toned paint with a soft gray hand applied finish to achieve a softer, more romantic bedroom. The plush head board upholstered in a warm grey velvet, flowing unlined linen curtains, soft bedding and hints of color make these homeowners feel comfortable and relaxed as soon as they enter the room.  Wouldn't you love to spend a Sunday morning watching boats sail by from this gorgeous spot?
Romantic bedrooms can be many different things to many different people.  Hopefully these romantic bedrooms have inspired you to redecorate your room!  Use soothing colors that connect with your emotions, or brighter tones that just make you feel good.  Keep the space simple and comfortable or more detailed, but always free of clutter.  Use decorations like photos and mementos that remind you of special moments.  And if you need help…give me a call!