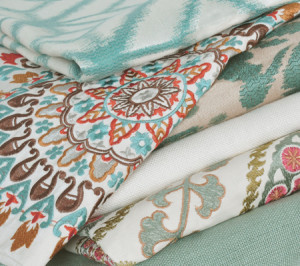 Eastern inspired ethnic design in Kravet's new Exotic Travels collection
While one trend in interior design is toward clean, contemporary, minimalist design, there is also a current interest in traditional ethnic design.  Also referred to as world design or global design, this eclectic look has shown up everywhere over the last few years, from homes to commercial retailers.  Particularly prevalent right now are Eastern inspired designs from India, Indonesia and East Asia.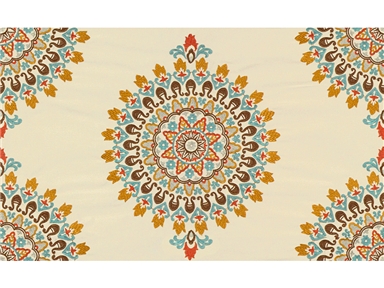 It is the element of exotic luxury and travel that inspires people to decorate with foreign elements and ethnic features. "Think of people you know who have traveled and have brought back unique and beautiful treasures they've incorporated into their homes," says Ellen Gefen, home fashion trend forecaster from HighPoint, NC. "It's that element of interest and surprise that adds so much to a room."  Decoration can become rich and sumptuous through the use of luxurious fabrics, interesting furniture, and unique accessories with an ethnic flair.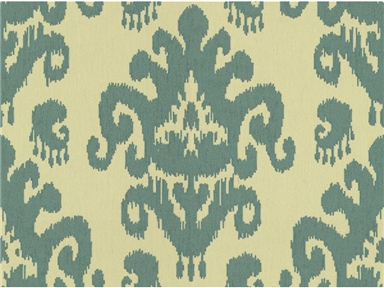 Traditional Eastern fabrics tend to be rich and luxurious with neutral backgrounds and strong accent colors.  Exotic Travels from Kravet Design is a gorgeous assortment of ikat and suzani patterns that follow the trend of versatile global design. This exclusive collection incorporates embroideries, stripes, and solids into a beautiful collection of fabrics and upholstery for the home.  According to the Kravet Design website, "Bright colors as well as neutrals make this a collection for a multitude of projects, perfect for those who wish to go beyond standard décor and bring an Eastern flare to their homes."  To see more of this beautiful collection go to Kravet's Inspired Design Page.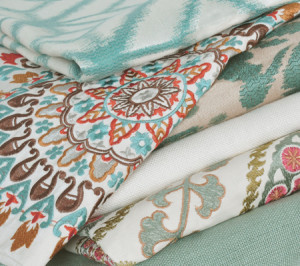 Elements of ethnic design can be incorporated into an existing decor or an entire room or home can be created around this style.  Ethnic features blend well with a wide variety of other contemporary home finishes from natural wood to raw steel to high-gloss lacquered finishes.  I'm looking forward to using some of these beautiful new ethnic inspired fabrics in my projects – they have a look that is both trendy and fresh.
What do you think of the ethnic design trend?  Would you use it in your home?