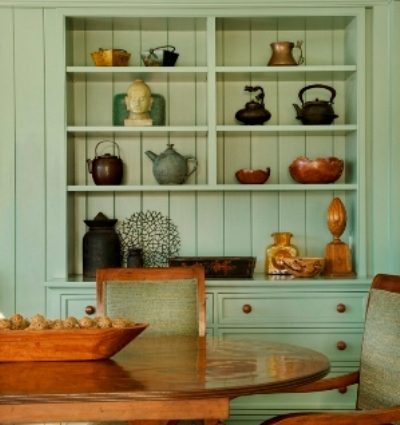 Design Challenge: How to organize shelves
Open shelves are an ideal spot for displaying small galleries of your favorite collections – pictures, vases, and of course, books.  These spaces can, however, quickly become cluttered. Open shelving has a way of welcoming in all sorts of knickknacks, so it is important to establish a function and a theme to organize shelves. If you are displaying something other than books, it can also be necessary to edit so your collections come across as curated and special. For some of us, editing down is hard to do, but you'll be more than happy with the end result.
Looking for inspiration? Here are a few shelving displays from some of our projects.
Establish a function and a theme to organize your shelves
For the Gardener:
When displaying your favorite vases in the winter, leave them as is on the shelves.  When spring comes around, use them to show off your gardening skills by displaying your fresh cut flowers. Use different sizes, shapes and shades in the same color family or several color families for a dynamic, cohesive look.
For The Chef: 
Practical and stylish, displaying your dishes is a great option for kitchen and dining areas that could use some extra storage space. Just be sure to put the most attractive pieces on open shelves. Shake up the design with some fun pieces like coffee table books or framed art.
For The Photographer:
Creating a photo gallery is one of the easiest ways to bring a personal touch to a space.  Use open shelves in a family room to do just that.  We have found that using large mats within the framed pictures makes each one feel extra special.
For The Collector:
When displaying truly special artifacts, leave plenty of breathing room between each item on the shelves, so they can all stand out.  Add lighting to put emphasis on your prized possessions.
For The Book Worm:
At-home libraries, offices and studies can always benefit from extra shelves. For visual interest, position a few larger books horizontally on the shelves to break up the design. Add family heirlooms, clocks, and favorite collectibles to make the working environment a bit more inviting.
Where do you have shelves in your home…and what do you display on them?