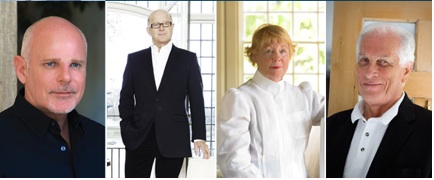 Design rules from a few of today's dynamic designers
A few weeks ago, we stopped into the Boston Design Center for a seminar hosted by one of our favorite glossy reads, VERANDA Magazine. The event featured four of today's most dynamic designers: Richard Hallberg, Veere Grenney, Nancy Braithwaite, and Charles Spada. Here are some take-aways from the event!
Richard Hallberg
"I always have a sense of nature in my work," citing that designs and gardens work together. Proof of this practice? Most of Richard's designs feature a plant or tree as a focal point within an interior space.
Other themes that define Richard's designs include a mixture of materials, striking artwork, clean lines, and bright light (he grew up inspired by California's strong sunlight).
Veere Grenney
"You need to understand the human condition, how people like to live." To Veere, this is just as important for successful interior design as a knowledge of architecture, scale, and form – and it takes time and experience.
Veere recommends always going back to the sensibility of the project. Ask yourself: Is this design appropriate for the people who live there, for their life stage, for this location, for this room?
Nancy Braithwaite
"I love simplicity. I believe it is far more difficult to be simple than complicated."
To achieve Nancy's sophisticated simplicity, the renowned designer relies on this signature recipe: large-scale furniture, neutral colors, bold pattern, repetition of form, and a bit of whimsy.
Charles Spada
"One of the greatest aspects of interior design is the diversity." And if we were to describe Charles Spada's career as one thing, it would be just that: diverse. The accomplished designer has a layered background with stints as a dressmaker, antiques dealer, television art director, and of course, interior designer.
A decorating tip from the multi-talented designer: "Every 5 things I put in a room, I try to edit out at least one, to keep it simple"
Tell us – do you have any design rules that you try to follow when decorating?