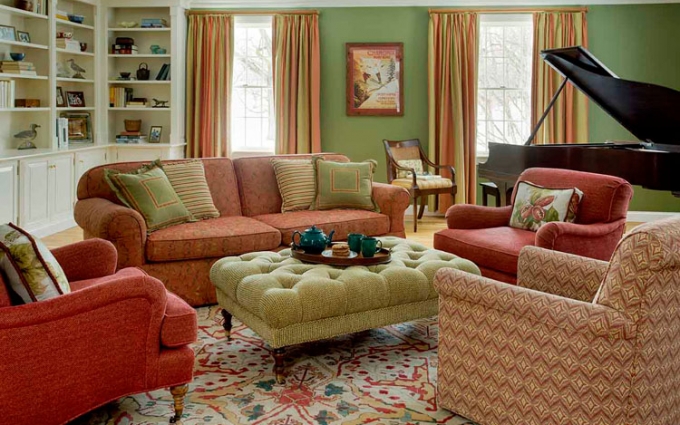 A thought provoking discussion on traditional interior design
Recently I attended a seminar at the Boston Design Center titled, "What's Traditional Now?" by  Krissa Rossbund, Senior Style Editor of Traditional Home Magazine.  Krissa is an award-winning journalist as well as a lifestyle and trend expert who spends her days reporting on today's modern homeowners – how they decorate, how they entertain, how they live – to shape each issue of Traditonal Home to fit it's tagline of  'Classic Taste, Modern Life'.
This lively presentation explored how a traditional lifestyle translates into today's interiors.  The Boston Design Center remarks, "Boston has long been recognized for it's historic landmarks, classical architecture and time honored design.  It is an enduring esthetic that Traditional Home Magazine has consistently heralded in its pages.  But as a Traditional home, the word traditional isn't used to solely describe an aesthetic but a lifestyle that touches all the senses and draws from many eras."  Living and working in Boston, I understand Traditional Design and how it has evolved over the years.  I have witnessed a paradigm shift over the years in what has been considered 'traditional interior design' and what is traditional now.  This photo of a stately home I designed in Georgia is a good example of today's traditional – more casually traditional, not stuffy and formal.  It features architectural details from traditional homes of earlier days like the candle sconces, wood paneling, shelving, and a fireplace with traditional mantle yet the furniture details are more relaxed, clean and modern.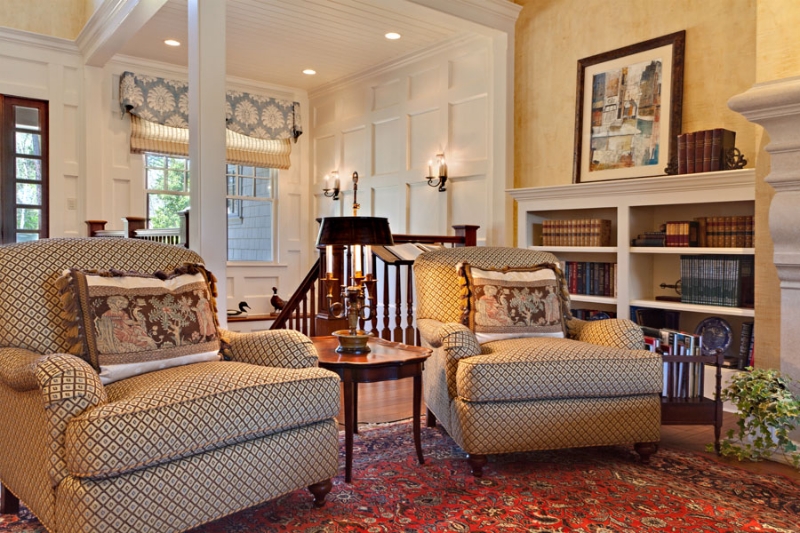 In this day and age with so much emphasis on clean, sleek, contemporary interior design, traditional interior design tends to be seen as not fitting into today's lifestyles.  When most people think of traditional interior design they probably think of their grandmother's home – an older looking  home filled with antiques.  At one point in time that was what traditional design was all about, but traditional interior design has evolved to incorporate a little bit of the old, while embracing the new.  Traditional interior design now seems to settle somewhere in the middle between the polar opposites of days gone by traditional design and contemporary design.  Traditional design now shows an appreciation for historic architectural details, interiors and furnishings while also admiring clean lines, a lack of clutter, neutral and/or bold, lively colors and modern technology.  Today this merging of styles is often called "Transitional" design, but I prefer to think of it as the "New Traditional".  This room I designed demonstrates the "new traditional" or transitional design aesthetic – it has traditional bones with contemporary accents like the arched plaster detail above the cabinets in the kitchen and counter stools.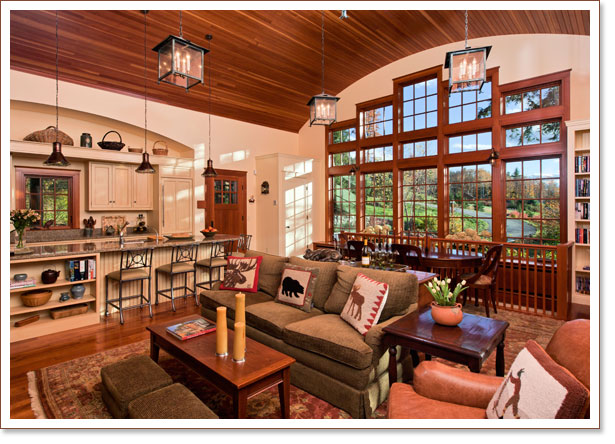 After the discussion, fellow interior designer, Gary McBournie presented his new book "Living Color".  Gary is known for his warm, elegant, and timeless classic American homes, always with a twist on tradition.  He does a great job of showcasing the traditional interior design work he is known for.  For more information on Gary McBournie's book: http://www.pointedleafpress.com/living-color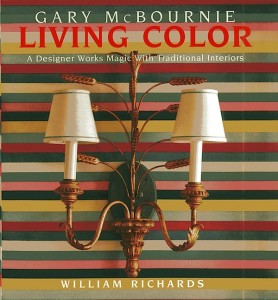 What design style do you like?  Are you traditional?  Or does 'the new traditional' characterize you?