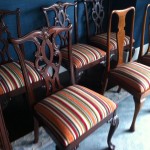 The design challenge: matching vintage dining chairs
Sometimes finding the perfect piece of furniture for your home isn't the latest and greatest in the world of interior design–instead, it's a time-honored vintage find. Recently, we've been in the market for a set of antique Chippendale dining room chairs to add to an existing set for a client. During this design challenge, we put together a few tips to make finding a great match a little easier for you.
Photo Op
Share your design challenge with others interested parties who could help you.  Take clear, well-lit photos of your existing chairs and email them out to nearby antique shops and consignment shops, so they can be on the look out for similar items.
Mix & Match
Don't' be afraid to mix it up a little a little. Carving details don't need to be exactly the same – especially on areas of the chairs that are less seen (like the legs). The most important elements to match are the overall size and shape of the chair, the carvings along the top of the back, and the type or stain of the wood.
Seating Arrangements
Work with a designer to reupholster the various chairs with new custom seats – the consistent pattern will tie everything together. This step makes all the difference when putting together non-identical pieces, like this fleet of 12 dining room chairs featured here.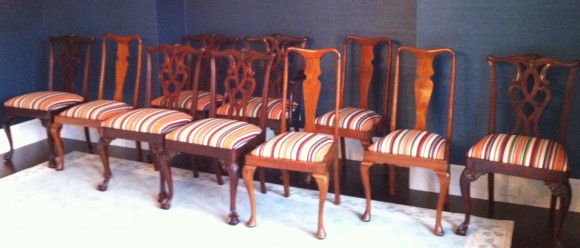 Patience, Patience
Be aware that finding antiques takes time – it really is a design challenge.  Approach the project with a relaxed, enjoy-the-journey attitude and you'll be much happier in the end.