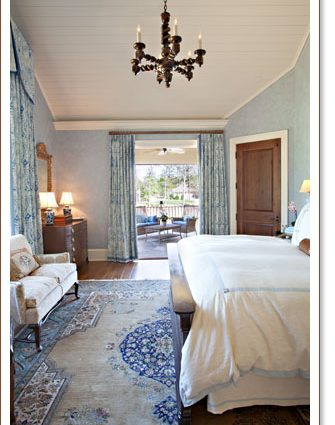 How do you create a feminine, relaxing bedroom?
This client wanted a space that was restful and regal-looking as well as a feminine retreat. She loves peaceful blues and elegant patterns. With that in mind, I included the following key elements to create her dream feminine relaxing bedroom:
1. Soothing Colors
Light blues, aquas, and pinks are the basis of this room. Pastels are pleasing to the eye, creating a soothing atmosphere, and these particular hues are in harmony with one another.
2. Cozy Seating
Besides the bed itself, a few lounge-ready spots like the velvet chaise and the long cushioned bench, were added to create perfect spots for relaxing.
3. Soft Lines
The curved lines of the headboard, the bed skirt, and the window treatments help set the stage for a feminine, peaceful environment.  The soft, flowing lines are easy to look at and add to a state of relaxation.
4. Lots of Natural Light
While we often think of bedrooms as places for sleep, I think it's important to have a soothing atmosphere during the morning and day as well. This home is on a both a beautiful lake and a wonderful golf course setting and the bedroom has views of both.  I wanted to capture the gorgeous views outside, as well as let in as much light as possible. Of course, I also included black-out shades, so the clients always have the option to keep the room dark in the mornings!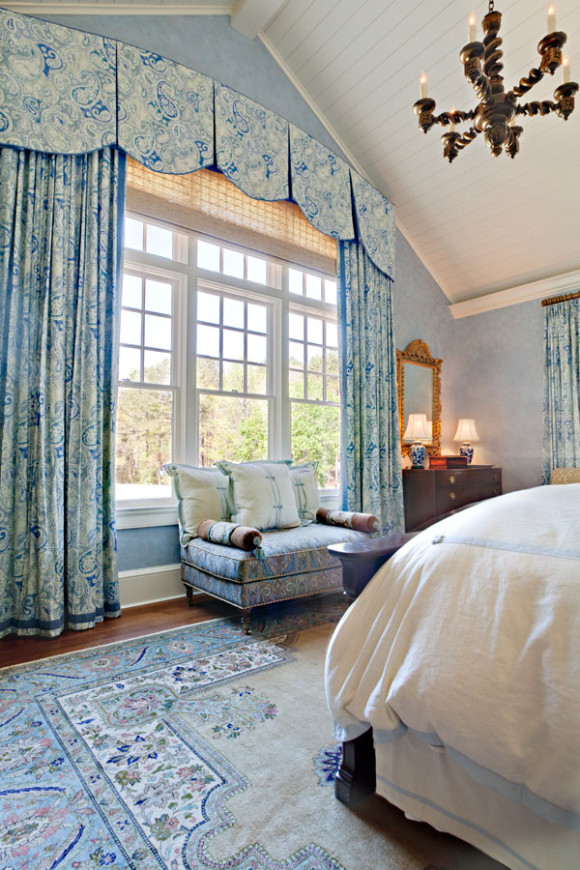 Depending on what colors and patterns you are drawn to, your version of a feminine bedroom could be completely different. What is your vision for a feminine bedroom?