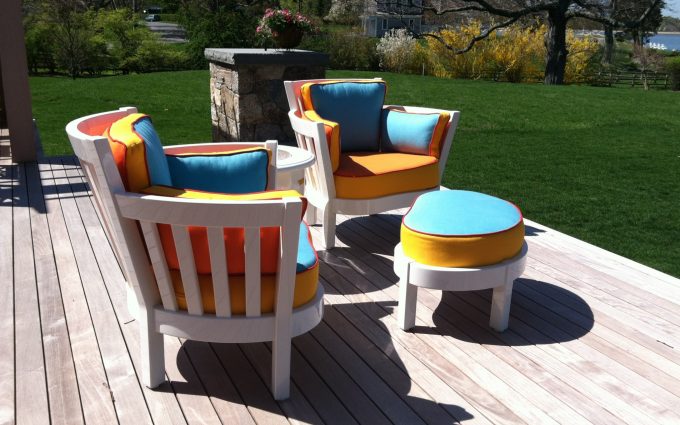 Here we are …It's the first day of summer.  This day traditionally kicks off weeks of warm weather entertaining and outdoor activities.  With that in mind, I want to remind you that interior design is not just for interiors!  Don't neglect your patio, porch or deck when creating the interior design of your home.  Most homes have an outdoor seating area, but many homes also have outdoor kitchens, living rooms and dining rooms as well.  Just as your homes' interior reflects your style and taste, so too can your exterior spaces.  The photos included here are some of my outdoor living projects:
There are many fabrics available that are specifically designed for all that Mother Nature dishes out.  Sunbrella fabrics are created to stand up to outdoor environments, yet have the look and feel of fine interior fabrics.
Originally created for awnings and later used in marine applications, Sunbrella fabrics are now widely used indoors and out because of their durability and ease of care.  These fabrics will not fade or degrade in the sun.
When creating comfortable outdoor spaces that blend seamlessly with your home, consider the rooms that are closest to that area  and the uses of each space.  Use the spaces to create privacy where needed and to take advantage of the views in others….
Do you have an outdoor space in need of some interior design?